Joint Development of 4kW Electric Propulsion System with Honda R&D Co., Ltd.
July 26, 2023
Tohatsu Corporation (President: Isami Hyuga | hereinafter referred to as Tohatsu) and Honda R&D Co., Ltd. (President and Representative Director: Keiji Otsu | hereinafter referred to as Honda) have reached a joint development agreement on a 4kW electric propulsion system for small vessels, and both companies are currently in progress of joint development. In this development, Tohatsu is in charge of mechanical and frame area such as the gear case and lower unit while Honda is in charge of the electric power unit area, and the "Honda Mobile Power Pack," a removable and portable battery that is replaceable, is adopted to power this electric propulsion system. Tohatsu will conduct field test of the 4kW electric propulsion system and will continue to strive towards achieving the carbon neutrality for the coming future.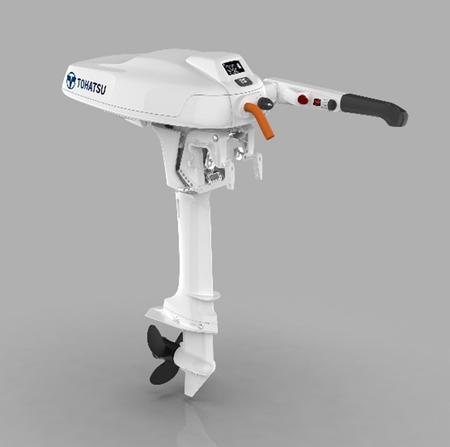 NB: The image shown is for illustration purpose only. The actual product may differ in its design and specifications.